---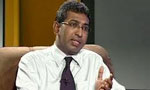 The United National Party (UNP) said today it would not allow government leaders to be hauled up before any international war crimes tribunal.
UNP MP Harsha De Silva told Parliament that the UNP was committed to protect the security forces that freed the country from the scourge of terrorism.
"We are fearless to tell it in public. We will not allow any government leader to be tried before war crime tribunals," he said.
Dr. De Silva said he had been unreasonably and falsely accused of siding with LTTE elements after his participation in a debate with Global Tamil Forum spokesman Suren Surendiran on a foreign TV channel.
"I was informed that Minister Keheliya Rambukwella would attend it along with me. I participated in it. Yet, I expressed my views against terrorism. I did not agree with the views expressed by Mr. Surendiran. I openly spoke out against his views during the debate. I insisted that there should only be a domestic investigation as being done by the government today to look into those allegations. Yet I have been falsely accused of agreeing with the Tigers," he said.
"I am a proud Southerner. I will not betray my country. I am a Sinhalese," Dr. De Silva said. (Kelum Bandara and Yohan Perera)