---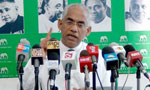 The United National Party (UNP) yesterday rejected the allegation that there was an invisible connection between the European Union General Court's ruling to lift sanctions on the LTTE and Opposition Leader Ranil Wickremesinghe's trip to London.
The EU General Court lifted the sanctions on the LTTE on October 16. The LTTE had been named a terrorist organisation by the EU in 2006.
UNP MP Eran Wickremaratne said the party had nothing to hide regarding Mr. Wickremesinghe's tour of London and that the rumours were baseless.
"All the reports and rumours were being centred on photographs circulated through the media which show our leader with several other Sri Lankans in London. They are the representatives of UNP London branch. We are willing to identify each and every person in those photographs if necessary," he told a news conference in Sirikotha.
He said the people in the photographs were hard working Sri Lankans who had left the country to work abroad in order to provide a better life for their families back home.
"The government is fabricating diabolical lies to tarnish the image of the UNP. But it is the innocent Sri Lankans who have been insulted by these attempts and not the UNP. It is a joke even to think a tour by an Opposition Leader from a small country could influence a ruling of the EU General Court," he said.
Mr. Wickremaratne said a UNP administration would not let LTTE terrorism raise its head again and charged that the government's foreign service had failed in its task of dealing with the threats to the country. (Lahiru Pothmulla and Sanath Desmond)