---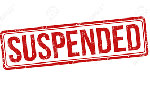 Seventeen senior students of the Allied Health Faculty of the University of Peradeniya have been suspended from attending lectures because they had ragged freshers.
The disciplinary officer of the University, Senior Lecturer Dr Ashoka Dangolla, said an inquiry had been conducted into allegations of ragging by them, and it had been decided to suspend them from Wednesday (23).
A new female entrant to the faculty had been ragged inhumanly and given up following the course. What had happened was an inhuman type of ragging he said.
He added that ragging was completely banned by the University and no one would be allowed to engage in such activities. (Nadeeka Daya Bandara)