---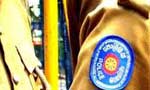 Two Traffic Policemen attached to the Athurugiriya Police were hospitalised after being assaulted this evening by four men in a trishaw when they ordered the trishaw to stop.
The police had ordered a suspicious looking trishaw to stop near Athurugiriya Town at around six pm, said Police Spokesman ASP Ruwan Gunasekara.
When the three-wheeler stopped four strongly built men, including the driver, had got off it and walked up to the policeman and beaten them severely.
They had then driven away in the trishaw.
The injured officers had alerted the police station and several policemen on motorcycles and in jeeps had searched for and traced the trishaw and apprehended the men.
(Kurulu Koojana Kariyakarawana)