---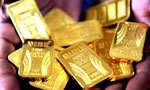 Officials of the Customs Department on Sunday confiscated around 500 gm of gold from two women who had arrived from Colombo by a Sri Lankan Airlines flight at the Nedumbassery airport in Kochi.
According to Customs officials, Fathima Azara Aboobacker and Rafiqa Dawood were found to be hiding 350 gm and 159 gm of gold, respectively, in secret compartments in their garments.The value of the seized gold is estimated at `13 Lakh.
"The arrested persons are Chennai-based small-time traders, dealing in cosmetics.
"A number of such incidents have been reported in recent times," said the Customs officials.
For the authorities, it is a matter of concern that smugglers are increasingly operating from Colombo, and using women as carriers to bring gold into the country through various airports.
(New Indian Express)