---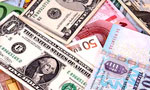 Two Sri Lankans were arrested this morning at the Bandaranaike International Airport (BIA) while attempting to smuggle out foreign currency worth Rs.40 million.
Customs media spokesman Leslie Gamini said the two suspects aged 30 and 49, were arrested while they were near the arrival lounge baggage belt with USD 229,500 and Euro 50,000.
He said investigations were underway to find out how and why the suspects entered the airport baggage belt area with the foreign currency.
Mr. Gamini said the Customs believed that the two suspects might have been there to hand over the foreign currency to somebody else.
The foreign currency valued at Rs.40,752,736 was concealed round their waists.
(Chaturanga Pradeep)