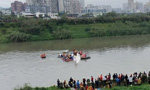 At least nine people have died after a Taiwanese TransAsia Airways plane clipped a bridge and crashed into a river near the Taipei.
More than 50 people were onboard the domestic flight, and a number of people were reportedly injured, the BBC said.
Taiwan's Central News Agency (CNA) broadcast footage of the plane almost submerged in the Keelung River.
Rescue teams are alongside the plane amid reports there are people still trapped inside.
The ATR-72 had just taken off from Taipei Songshan Airport and was headed to the outlying Kinmen islands, just off the coast of south-east China, CNA said.CNA quoted a government spokesman as saying the plane crashed after hitting an elevated bridge.
Footage of the plane apparently filmed from inside passing cars showed it banking sharply and clipping the bridge before crashing into the river.
Taiwan's aviation authority later said at least two people had been killed.
In July last year 48 people died when a TransAsia Airways plane crashed amid stormy weather in Taiwan's Penghu archipelago.