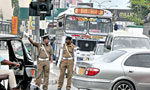 The Police Traffic Department is looking at plans to allocate the centre lane only for buses in Battaramulla, in a bid to reduce the extreme traffic congestion in the area.
Traffic DIG Amrasiri Senarathne, speaking to the Daily Mirror said at least 475,000 motor bikes, cars and vans travel to Colombo each day. However, the number of individuals entering Colombo by 21,000 buses outweighed the number of individuals coming into the city using other modes of transport.
"Three wheelers and bikes use the left lane and adding buses to the equation causes congestion" the DIG said.
"We are thinking of allowing buses to use only the centre lane and to find a way for passengers to get on and off at the yellow lines," he said. The plan was being looked at only for the Battaramulla area and not the entire city, the DIG added.
The new rush hour traffic plan for Jayawardenapura Road and Pittala Junction along Dharmapala Mawatha was a success, he said.
"We only allow another lane to be used for traffic leaving Colombo at the time. It was successful, there was a smooth flow of traffic," he said.
The new plan which began last Wednesday is implemented from 5 to 6.30 p.m. along the Jayawardenapura Road and from 4.30- 6.30 p.m at the Pittala Junction in Dharmapala Mawatha.
(Darshana Sanjeewa)