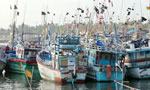 The Fisheries Ministry is making efforts to release Sri Lankan fishing vessels and other equipment, which are in the custody of Indian authorities.
"During a recent visit to India by UNP MP R. Yogarajan, he met its fisheries officials and discussed the release of Sri Lankan vessels detained by the Indian Coast Guard. The discussions resulted in agreements to exchange the fishing vessels between the two countries," the Fisheries State Minister Dilip Wedaarachchi said today.
"Mr. Yogarajan told Parliament about the views expressed by Indian fishing authorities while I expressed the views of the Fisheries Ministry at the sessions this week. A report will be handed over to the ministry secretary next week for President Maithripala Sirisena's approval," the State Minister said.
He said India had in its custody 18 Sri Lankan fishing vessels, which together with their equipment, worth about Rs.15 million each.
"The fishing vessel owners are facing various difficulties because of the huge debt they are trapped in," the State Minister said.
He said the previous Government had done little or nothing to obtain the release of the fishing vessels detained by India and that according to the reports received by the ministry there had been several attempts to rob these vessels and the equipment while several of them had been damaged by being left unattended or ignored for so long.
(Chaturanga Pradeep)