---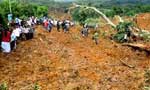 The three children who lost both of their parents in the Meeriyabedda landslide were handed over to their closest relatives on an order obtained from the Bandarawela Magistrate's Court, the National child Protection Authority (NCPA) said today.

Their situation will be regularly monitored by the NCPA under the directive of its Chairperson Anoma Dissanayake.

The Child Development and Women's Affairs Ministry in collaboration with the NCPA had made arrangements to uplift the mental health of the displaced children who were sheltered in the Koslanda and Poonagala Camps.

The Ministry said it was considering amalgamation of the two camps so as to provide a more meaningful service to the displaced people.

Meanwhile, Poonagala Tamil College Principal R. Mohan had told Minister Tissa Karaliyadda that there were 12 displaced children who were to sit the GCE O/L examination in December.

The ministry had made arrangements educate the displaced children and especially to conduct seminars for the students who will be sitting the O/L examination. A set of special advisors had been appointed to conduct seminars according to a time table.

The ministry had allocated Rs.2.5 million to provide the necessary accommodation to the displaced people and a group of ministry officers have been deployed in the camps to provide aid to the displaced. (Lahiru Pothmulla)