---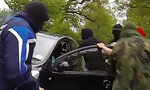 The Chennai city police on Friday arrested three persons, all Sri Lankan, on charges of kidnapping an aspiring film director, also a Lankan, and extorting money from him.
Two more, Siva and Jeyendran, are yet to traced. The victim, Nirojan, (28), escaped from the kidnappers who had him locked up in a lodge, owned by one of them in Valasarawalkam on Friday after two days in captivity. The three arrested were Jagan (25), Ravindran (47) and Dinesh (21).


Nirojan, who was living on Bajanai Koil Street in Vadapalani for the last seven years, had won an award for his short film, Mannum Sivandhadhu, and a hefty cash prize while he also worked as an assistant director on many Tamil films. He had got acquainted casually with Jagan, whom he invited to stay in his house as he was in financial trouble.


Jagan and Ravindran planned the kidnap after learning that Nirojan came from an affluent background. They took him to a lodge at Majestic colony, owned by Ravindran, grabbed his ATM card, withdrawing Rs30,000 cashfrom it. Nirojan managed to escape and approached the local police, who arrested them.( Deccan Chronicle)