---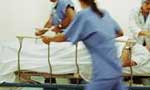 Three persons including two women died when a lorry fell into a precipice at Pahala Naragala area in Bulathsinhala on the Horana-Mathugama Road last night.
Police said the lorry on its way to Bulathsinhala from Horana had veered off the road and fallen in to the precipice when the driver attempted to avoid colliding with a trishaw from opposite direction.
The lorry driver and two women in the lorry had succumbed to their injuries after admission to the Horana Hospital.
Police said victims aged between 29 and 44 were from Bulathsinhala and Govinna areas.
The driver of the trishaw was arrested pending further inv investigations.
(DS)