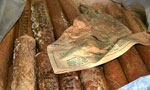 Three persons were arrested with illegal high range explosives in two separate incidents in Hungama and Ella yesterday, police said.
Police spokesman Ruwan Gunasekara said the Hungama Police patrolling in the Thalunna area had arrested two suspects while they were transporting explosives in a motorcycle.
They had seized 15 detonators, 7 sticks of dynamite, one parcel of 1.3 kgs of ammonium from the suspects.
The suspects, 40 year old residents of Hakuruwela and Thalunna have been remanded till November 30 by the Angunukolapelessa Magistrate.
Meanwhile a 47-year old man has been arrested with explosives while transporting in a bus in Rawana Ella area.
The suspect traveling in a bus was searched by the police at a road barrier in Rawana Ella.
Police recovered five sticks of water-gel explosive, 10 detonators, 6.2 kgs of Ammonium nitrate.