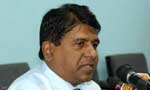 The proposed 'Theravada Bhikkhu Dialogue' Bill does not aim at weakening the authority of the Buddha Sangha but to give legal authority to Mahanayakas of all chapters including the four main Nikayas to carry out punishments decreed after an inquiry by legal Sangha Sabha of each chapter, Justice and Buddhasasana Minister Wijeyadasa Rajapakshe said yesterday.
Addressing the media at the Weekly Cabinet news briefing, Minister Rajapakshe said up to now there was no legal authority on Maha Sangha to carry out punishments on Bhikkus convicted by legal Sangha Sabhas of each Nikaya.
"What the government is trying to do through this Bill is to give legal authority to the Karaka Sangha Sabhas of each Nikaya that inquire complaints against Bhikkus of respective Nikaya to carry out punishments. The Government has consulted Mahanayakas and all other relevant stakeholders before drafting this Bill. A draft Bill has been in existence since 201," Minister Rajapakshe stressed.
He said the Bill was not a work of this government but discussions have been held from the time of late Prime Minister Mrs. Sirimavo Bandaranaike in 1974 to enact a similar Bill. The Therawada Bhikku Dialogue Act has followed the provisions of the Buddhist Temporalities Ordinance of 1931 to monitor and take disciplinary action against monks who break 'Vinaya' rules.
The draft bill was presented by Parliament Reforms and Mass Media Minister Gayantha Karunathilaka.
The initiatives have been taken in this regard under the guidance and advice of Sangha Nayaka Thera of the Tri Nikayas.The draft bill will focus on facts range from monitoring the behaviors of monks, provisions with respect to disciplinary procedures, and what kind of disciplinary action to be taken, Minister Rajapaksa stressed and added those who make conflicting and misguided statements must first read the Act..
Reiterating that the Bill was not a law on Bhikkus or the Sasana, the Minister responding to a journalist said the the decision to give permission to have vehicle licenses or to engage in 'Yaga – Homa' has to be taken by Mahanayakas and Karaka Sangha Saba of each Nikaya.
(Sandun A Jayasekera)