---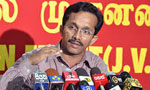 Government politicians have begun to panic because of a lady who is about to come into the political limelight, JVP MP Sunil Handunnetti said today.
"Everyone will get to know about this lady soon and I will not divulge more about her who is associated with the presidential election," Mr. Handunnetti said in a lighter vein speaking during the committee stage of the budget in the House this afternoon.
Coming up with more serious issues, the JVP MP charged that a kilogramme of Papaya seeds costs an incredible Rs 800,000. He said farmers today purchased only an average amount of 10g of Papaya seeds which also costs Rs 8,500.
In addition he said a kilogramme of potato seeds also cost Rs 18,000 while the production cost of potatoes for an acre was Rs 224,000.
Mr. Handunnetti questioned as to why the government was importing seeds spending huge amounts of funds without investing on local nurseries.
He also called on import duty cuts for various equipment used in the paddy cultivation. (Yohan Perera and Kelum Bandara)