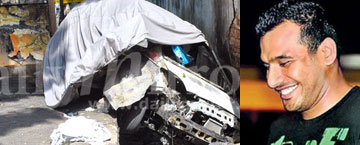 The death of ruggerite Wasim Thajudeen, whose burnt body was found in a vehicle near the Shalika Grounds in Narahenpita, was pronounced a murder in the final report submitted to Court today by a board of medical officers led by the Colombo Chief JMO, Dr. Ajith Tennakoon.
Complaints had been lodged with the CID that Thajudeen's death on May 17, 2012, was not an accident.
Court had ordered that the body be exhumed and a second post mortem held.
According to the report, Thajudeen had not been driving at the time of the accident, and his body had been placed on the seat after he had been assaulted and weakened.
The expert board, comprising Colombo Chief JMO Ajith Tennakoon, Specialist Dr.Jean Perera and Additional JMO S.G.A. Hewage, submitted their report yesterday to Colombo Additional Magistrate Nishantha Pieris.
The board has reported that, in their opinion, death had been caused by the effects of the multiple injuries inflicted on the victim's legs, neck and chest.
The burning had taken place after the death of the victim or a few minutes prior to his death, according to the report.
The report said the opinion was based on the estimation of the carbon monoxide content of the burned body.
The exhumed body parts, and the parts preserved as evidence, after the first post mortem, by the JMO and in the Toxicology Unit were all identified as those of Thajudeen.
(Nirangi Abeywickrama)