---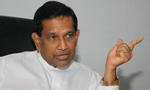 The Government has decided to increase the tax imposed on tobacco companies to 90 per cent and the relevant Cabinet paper will be submitted to the Cabinet when it next meets Health Minister Rajitha Senaratne said today.
He said the previous government had imposed a tax of 67% on tobacco companies but the then R. Premadasa government had imposed a 90 per cent tax on tobacco companies.
He said the revenue from tax on tobacco would be higher than that collected from the VAT and as such it would be removed shortly.
"We imposed the VAT as a temporarily measure. It will be removed soon," he said.
The minister said he had requested the government that all the taxes imposed on health services be removed while increasing the tax imposed on tobacco companies. (Ajith Siriwardena)
Video by Chamilka