---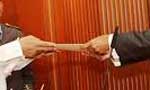 The swearing-in of State Ministers and Deputy Ministers of the National Unity Government has been postponed for tomorrow, government sources said.
Of the 48 Cabinet Ministers in the National Unity Government, 43 have already been sworn in. The swearing-in of 45 State Ministers and Deputy Ministers was earlier scheduled to be held this morning (8).
Twenty seven State and Deputy Ministers are to be appointed from the United National Front (UNF) while the rest would be appointed from the Sri Lanka Freedom Party (SLFP).
Meanwhile, it was also reported that one UNF Cabinet Minister and four SLFP Cabinet Ministers are to be sworn in tomorrow.
(Ajantha Kumara Agalakada)