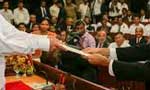 The swearing-in of the ministers of the new government that was scheduled for today has been postponed, for the second time, until Thursday (27). It is learnt that the Cabinet will comprise 51 ministers.
The 19th Amendment to the Constitution restricts the Cabinet to 30 except in the case of a national government. In which case the number of Cabinet, State and Deputy Ministers can be increased with the approval of parliament so as to accommodate members from the other parties who will join in forming the national government. The Cabinet minister will include the Prime Minister and the President with selected subjects coming under their purview.
The Ministers of Justice, Foreign Affairs and Rehabilitation were sworn in yesterday with 25 more to be sworn in during the next few days and the rest to be sworn in after parliament meets on September 1.
It is learnt that last minute changes had been done to the subjects to be assigned to the ministers. The Power and Energy which was previously under the purview of Minister Patali Champika Ranawaka will be handled by a different minister this time. Kurunegala district MP Akila Viraj Kariyawasam will continue as Education Minister while Kakshman Kiriella, who was Plantation Minister will be assigned a different portfolio this time.
Prime Minister Ranil Wickremesinghe and President Maitripala Sirisena will also hold Cabinet portfolios and barring them, 28 ministries will be assigned to the United National Party (UNP), 17 to the Sri Lanka Freedom Party (SLFP) and the balance to other parties including the Sri Lanka Muslim Congress (SLMC).
(Kelum Bandara)