---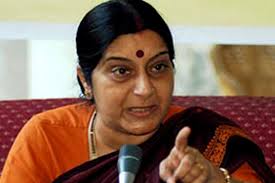 External Affairs Minister Sushma Swaraj has asked fishermen to refrain from poaching in Sri Lankan waters by crossing the International Maritime Boundary Line (IMBL) till the government works out a solution to the problem and secures the release of 24 fishermen arrested by the Sri Lankan Navy.
Ms. Swaraj, who had a two-hour meeting with the 12-member delegation of fishermen in New Delhi on Tuesday evening, suggested that the fishermen avoid complicating the matter by crossing the IMBL and help the government to work out a solution, said senior BJP leader D. Kuppuramu, who accompanied the delegation.
Mr. Kuppuramu, who heads a four-member team to study the problems of the fishermen, said the government was committed to finding a lasting solution.
Ms. Swaraj also assured the delegation that the government would take steps to resume the talks between the fishermen of the two countries, he said. The first round was in Chennai in January. The second round, held in Colombo in May, ended in a deadlock.
He said the government could secure the release of 24 fishermen and 79 boats impounded by the Sri Lankan government. But the fishermen complicated the matter by poaching again in Sri Lankan waters and getting arrested.
The delegation of fishermen leaders from Rameswaram, Nagapattinam, Pudukottai, Thanjavur and Puducherry were convinced that the government was genuinely trying to address their problems.
Fishermen leader U. Arulanandham said Ms. Swaraj indicated that money was not a problem, and the government would build the infrastructure for fishermen to take up deep sea fishing.
Another fishermen leader P. Sesu Raja, part of the delegation, expressed satisfaction with the talks. "For the first time, we could discuss our problems with the External Affairs Minister," he said. (Source: Hindu)