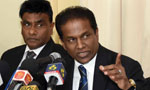 Former Sri Lanka Cricket (SLC) President and the Deputy Speaker Thilanga Sumathipala handed over his nomination to contest the presidency of SLC today along with a strong team and claimed he wanted to "overhaul" and "transform" cricket in Sri Lanka.
Interestingly contesting in his team for vice presidency would be SLC's immediate past President Jayantha Dharmadasa for long a bitter rival of Sumathipala in local cricket politics.
Both Sumathipala and Dharmadasa however insisted that the only reason they joined hands was for the sake of cricket and claimed there were no other hidden agendas.
"We got together for best interest of the game. It is like HE Maithripala Sirisena and Ranil Wickremasinghe got together in the best interest of the country under Yahapalanaya. We are also under Yahapalanaya in cricket" claimed a smiling Sumathipala who had Dharmadasa seated at his left hand and former SLC Vice President K. Mathivanan ested at his right.
Sumathipala whose ambitions for SLC chair had been thwarted by political undercurrents time and again for more than 15 years however expressed relief and confidence that he would meet no such hurdles this time.
Sumathipala also unveiled a comprehensive four-year plan till 2020 to develop cricket in Sri Lanka less than six main points.
He announced his team as Thilanga Sumathipala (Preisdent), Jayantha Dharmadasa and K. Mathivanan (Vice Presidents), Mohan de Silva (Secretary), Shammi Silva (Treasurer) and Ravin Wickremaratne (Assistant Treasurer).
(Channaka de Silva)
Video by Buddhi