---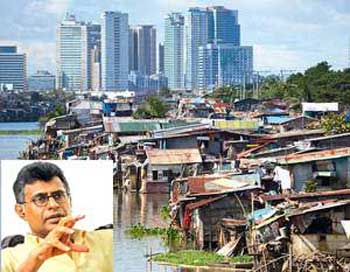 Some 50,000 slums that were identified within the Colombo City limits, and at least half of them would be removed by year 2020, Megapolis and Western Development Minister Patali Champika Ranawaka said yesterday.
Participating at a food festival at The Pettah Floating Market, the minister said around 10,000 new houses would be distributed among the people that would be built without state funding.
"It is also the government's responsibility to provide houses for the people living in Colombo. As it gives houses to people in the north and east, to plantation workers; it is also their duty to provide a shelter to people in Colombo. We request the President to develop Colombo before thinking the country's other places," he said.
He said Rs.864 billion had been spent on Hambantota development, while another Rs.377 billion on Kandy highway. But to build houses in Colombo or renovate its roads, no investments have been made by the government so far.
Therefore, Minister Champika requested the government to invest on Colombo to develop its infrastructure before going to develop the rural areas. (Thilanka Kanakarathna)