---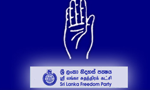 The Central Committee of the Sri Lanka Freedom Party (SLFP) will meet today, reportedly to discuss the party's decision to accept ministerial posts in the national unity government which is to be formed in partnership with the United National Party (UNP).
In a 45-member Cabinet, the SLFP will be allotted 12 slots. It is learnt that portfolios such as Agriculture, Power and Energy, and Irrigation have been offered to the SLFP.
The Central Committee will meet President Maitripala Sirisena, in his capacity as party chairman, today, to endorse the party's decisions and to discuss the way forward.
It is learnt that the party will also choose the leader of the opposition at this meeting.
(Kelum Bandara)