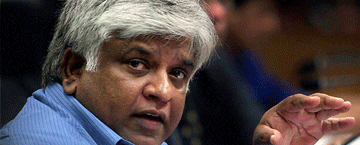 The Minister of Sports Dayasiri Jayasekera conducted an inquiry today into some of the objections made against candidates contesting the Sri Lanka Cricket (SLC) elections next month.
Among those present at the inquiry were former SLC administrator Thilanga Sumathipala and former captain and Minister of Ports and Aviation Arjuna Ranatunga.
Speaking to the media after the inquiry, Mr. Sumathipala, who is also the deupty speaker of parliament, said, "There were objections to some of the nominations for the Sri Lanka Cricket elections and the Sports Ministry conducted an inquiry today, where he brought them forward, and allowed us to respond, with considerations about the Sports Law and Sri Lanka Cricket constitution. The results of the inquiry along with the Minister's final decision could be made public tomorrow."
Meanwhile, Ranatunga said that some of the objections raised against him were a personal attack and that he hoped to bring SLC administration in line with the policies of good governance.
"There was an allegation against me saying that I had thrown away some matches while I was playing, but those have been disproved in the past. This is a personal attack against me. There was no proof to back the objections that were made and I have no issues with this inquiry," Ranatunga said.