---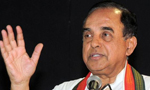 BJP Leader Subramanian Swamy on Monday said the five Tamil Nadu fishermen sentenced to death in Sri Lanka for drug smuggling would be transferred to an Indian prison, citing a telephonic discussion between Indian Prime Minister Narendra Modi and Sri Lankan President Mahinda Rajapaksa.
'Namo and Rajapaksa spoke on the phone yesterday and agreed to process papers and transfer five convicted fishermen to Indian jail. I am vindicated!' Swamy tweeted on Monday.
Later, he was quoted by ANI as saying that the fishermen will 'soon be released to Indian authorities'
'Talks have been held between Rajapaksa and Modi ji. The issue of Tamil fishermen who were to be hanged was raised. Also they (fishermen) will soon be released to the Indian authorities. Rajapaksa said there is an agreement between India and Sri Lanka for transfer of sentenced person. Have been invited to Sri Lanka on the 24th, hope to bring back the fishermen," he said.
However, the Ministry of External Affairs has not yet confirmed any such move, India Today reported.