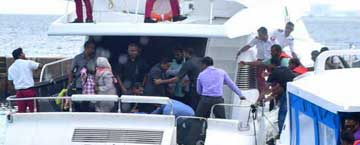 The investigation, carried out by a team of four Sri Lankans on the explosion in the Maldivian President Yameen Abdul Gayoom's speedboat on September 28, had revealed that it had been pre-planned and was not due to a technical fault in the boat's engine as claimed earlier.
The Sri Lankan investigative team comprising Government Analyst A. Welianga, Chief Inspector Dimuthu Samaranayake of the STF bomb squad and two CID officers left for the Maldives on October 1 and returned to the Island on Monday.
A source said the explosive device had been planted under the helmsman's seat inside the VIP cabin and that the Maldivian government had been conveyed this information verbally.
"We believe this is not an assassination attempt but a mere warning to the President. The final investigation report will be handed over to the Sri Lankan Government today for onward transmission to the Maldivian Government," he said.
Apart from the Sri Lankans, officers of the FBI and Indian and Saudi Arabian sleuths had also investigated the explosion. However, according to reports only the Sri Lankan team had completed its investigations.
On September 28, the Maldivian President escaped unscathed from an explosion on his speedboat while returning to a luxury tourist destination after his Hajj pilgrimage in Saudi Arabia. The President's wife, Fathimath Ibrahim and a bodyguard suffered minor injuries.
(Darshana Sanjeewa)