---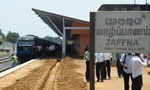 IRCON International, the Indian public sector company which has been constructing railway tracks and signaling systems in Sri Lanka for nearly a billion US dollars, has trashed criticism by some Lankans that it has inflated the cost of its projects.
All Ceylon Railway Employees General Union Secretary S. P. Vithanage and Dr. T. Lalithasiri Gunaruwan, economist and former Secretary, Transport Ministry, had contended that the Lankan railways would have done the work at one fourth the cost.
Describing the contentions as "baseless", IRCON Project Director S. L. Gupta said that it is clear that criticisms are levelled by non-technical people.
"Any comparison of rehabilitation of the tsunami devastated tracks in South Sri Lanka undertaken by the IRCON and the Lankan railways is mischievous because the scope of work done by the two were not comparable," Gupta said.
"IRCON had to fully overhaul the damaged track over 112 km by removing the old track and rebuilding it with new material procured from India. A high quality track has been laid to give a qualitatively superior riding experience," IRCON Project Director Gupta told the Indian Express.
On the projects in the North, he said: "The rehabilitation of the Omanthai-Kankesanthurai stretch was not merely patching up an existing track, but laying a completely new one."
Gupta further said: "Anyone travelling by train from Colombo to Jaffna will feel a marked difference between the stretch laid by IRCON from Omanthai to Jaffna, and the stretch laid by the Lankan railways from Colombo to Omanthai, including new track laid by the latter between Vavuniya and Omanthai."
IRCON's estimates were as per global norms, Gupta said and added that President Mahinda Rajapaksa has acknowledged in writing, that the Chinese charge three times more.