---

Sri Lanka hits back Wednesday over claims it is clamping down on media freedom after criticism from rights groups and Washington for its shutting of opposition news websites.
"Look at the newspapers in Sri Lanka. Can you possibly say that there is no freedom of press in the country? There is so much," Sri Lankan Foreign Minister Gamini Lakshman Peiris told reporters in Tokyo. "If you look at Sri Lankan newspapers, if you look at Sunday papers, they are full of the most abusive criticism, but nothing happens to those newspapers," he said. Sri Lanka, which lifted a state of emergency last year after concluding a decades-long ethnic conflict in 2009, is now beginning "a new chapter in our history, an exciting chapter, full of hope and promise," he said.
Colombo faced criticism after its police shut down opposition news websites and arrested nine employees, including several journalists, last Friday. The United States on Saturday joined rights groups in demanding Sri Lanka stop "harassing" media organisations. Peiris told reporters in Japan the police move was justified as a way to protect privacy and safeguard reputations.
AFP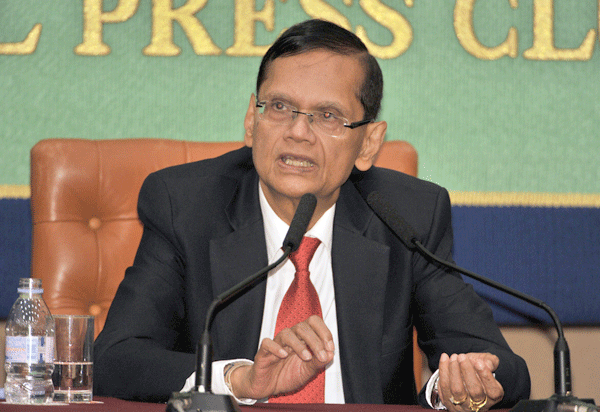 Sri Lankan Foreign Minister Gamini Lakshman Peiris speaks at a press conference in Tokyo on July 4, 2012. Peiris attended the World Ministerial Conference on Disaster Reconstruction in Tohoku held in the northen city of Sendai. AFP