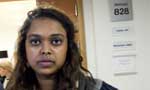 Sri Lankan born Khamshajiny Gunaratnam is to become the new deputy mayor of Oslo as Norway's Labour Party and its Green and Socialist allies retake the city after eight years of Conservative rule.
Gunaratnam was 23-years-old when Norwegian terrorist Anders Behring Breivik attacked the Labour party summer camp she was attending on the island of Utøya in 2011.
The 27-year-old Utøya survivor— who styles herself "Kamzy" — was born in Sri Lanka and moved to Norway when she was three years old.
She will be formally elected at a meeting of the city's new council on Wednesday.
She will serve under the city's new mayor Marianne Borgen, a longstanding politician for the Socialist Left party.
Borgen's appointment ended hopes that the city could see its first Muslim mayor, after the Green Party's candidate Shoaib Sultan became sidelined in the Labour Party's coalition deal.
"It was for me the safest place in the world," she told the New York Times after the event in Utøya.
She told the Financial Times how she decided to try to swim to land from the island, despite seeing many turning back in exhaustion.
"Eventually, I decided I would rather drown than be shot," she said.
(thelocal.no)