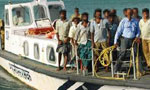 Six Sri Lankan fishermen had been apprehended by the Indian Coast guard yesterday allegedly found fishing inside the Indian Maritime Boundary, the Fisheries Department said.
Fisheries Department Assistant Director Lal De Silva said trawler Sudu Duwa 4 was taken into custody with six Lankan fishermen.
The fishermen had left from the Trincomalee coast on January 6.
Mr. De Silva said steps had been taken to inform the Indian authorities through the External Affairs Ministry to take relevant measures to release the fishermen and the trawler.
The boat has been taken to Nagapattinam coast in Tamil Nadu, he said.
Meanwhile, Indian media reports also reported that six Lankan fishermen had been taken to Indian custody.
Reports quoting Commandant Udhal Singh, Commanding Officer at Karaikal, said the Lankan fishermen were intercepted by C-428 vessel of Coast Guard, when it was patrolling east of Nagapattinam and the fishermen had been detained for 'maritime violations.'
They are expected to be handed over to the Tamil Nadu Police.
(Chaturanga Pradeep)