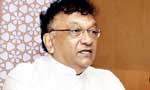 There is evidence to suggest that an outside force had influenced the students of the Higher National Diploma in Accountancy (HNDA) during the protest on October 29, Higher Education Minister Lakshman Kiriella told Parliament yesterday.
He said there had been some people from Kandy among the students at the protest outside the University Grants Commission Office (UGC).
The minister said the students were aware that the government had taken steps to reactivate the circular 46/90 on awarding degree status to the HNDA course and pointed out that this could be confirmed in the statement issued by the students' union convener on October 29.
"It is nothing but a joke for the students to stage a protest when the government had already decided to meet their demands," he said.
He recalled the crisis was the work of the previous regime which cancelled the degree status of the diploma course.
A heated argument between the minister and Chief Opposition Whip Anura Dissanayake arose just then when Mr. Dissanayake said the decision to reactivate the circular was made after the students launched their protest campaign.
(Yohan Perera)