---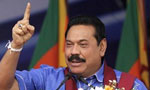 Former President Mahinda Rajapakse today said a government should be headed by one leader not by two leaders. Two leaders trying to administer one government was similar to using an ox and a buffalo to plough one field, he said.
"This will never work out. There was a similar incident during the state ploughing ceremony in Polonnaruwa recently," the former President said.
Commenting on the affairs of the current government, Mr. Rajapakse said President Maithripala Sirisena should control the government completely or hand it over to Prime Minister Ranil Wickremasinghe and join the opposition.
The former President made these comments when he visited the Hittetiya Rajamaha Vihara in Matara to pay his last respects to late Chief Incumbent of the temple Ven. Godagama Kirthisri Ariyajothi Chulalankara Thera. (Krishan Jeewaka Jayaruk)