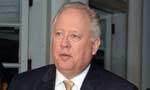 In a bid to strengthen bilateral ties between the US and Sri Lanka, an annual Partnership Dialogue organised by the US and Sri Lankan governments will start by late February, next year in Washington, visiting US Under Secretary of State (Designate) for Political Affairs Ambassador Thomas Shannon said today.
"Next year's meeting will be the first and this annual meeting will provide an opportunity to discuss all aspects of the relationship and ways in which the United States may be able to engage directly with the people of Sri Lanka and the Government," he said.
Mr. Shannon also assured that the US would assist reconciliation and broader transitional efforts at the household level, community level, and national levels.
He also said that Sri Lanka is moving forward and both the masses and the leaders of Sri Lanka are working together to usher in reforms to put the country on a long term path to peace, stability and prosperity.
Mr. Shannon who is on a three-day official visit to Sri Lanka met Foreign Minister Mangala Samaraweera at the Ministry last evening and held discussions on aspects to develop bilateral relationship between the two countries among other areas.
Mr. Shannon said he had a productive meeting with Foreign Minister Samaraweera and discussed ways the United States could stand with Sri Lanka as US State Secretary John Kerry had put in previously during his visit to Sri Lanka and take concrete steps to enhance partnership between the two countries.
He said Sri Lanka's contributions to the development of a regional consciousness which promoted the values of democratic governance and respect for human rights, freedom of navigation, sustainable development and environmental stewardship were noteworthy.
"We also welcome Sri Lanka's contributions to global peacekeeping and humanitarian disaster assistance and believe that Sri Lankan armed forces can also play a constructive role to create a great future for Sri Lanka as well as the region," he said.
Foreign Minister Samaraweera, while thanking Mr. Shannon for visiting Sri Lanka, said his visit combined with all the previous important visits indicates the level of excellence that relations between Sri Lanka and the US have reached today.
He said the proposed US-Sri Lanka Partnership Dialogue would focus on Governance, Development Cooperation and People-to-People ties, Economic Cooperation, Security Cooperation and International and Regional Affairs.
(Lahiru Pothmulla)