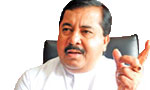 At least 16 of the 26 SLFP Parliamentarians, who joined the government might leave their current positions and return to their original positions, Parliamentarian T. B Ekanayake said.
A number of the SLFPers, including some who have taken up Deputy and State Ministerial portfolios in the new government, were currently discussing the matter, he said.
"A decision will be taken next week," Ekanayake said.
The Parliamentarian said that members were being pressured by the voters of their respective electorates to return.
Speaking of the general elections, Ekanayake said the party would kick off their campaign with former President Mahinda Rajapaksa, if Parliament was dissolved, in Anuradhapura.
"If Parliament is not dissolved we will begin our rallies with the participation of Mahinda Rajapaksa from Matara," Ekanayake said.
(DS)