---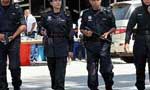 Malaysian Police have arrested seven men for investigation into the death of a Sri Lanka man who was allegedly assaulted while attempting to break into an apartment at Kota Kemuning in Shah Alam.
Shah Alam district police Chief ACP Shafien Mamat said the incident occurred about 3 a.m when occupants of the apartment saw the suspect attempting to prise open the door and gave chase when he attempted to flee.
"Several individuals at the apartment also went after the man and assaulted him after catching him," he told a media conference at his office in Shah Alam yesterday.
He said the man died on the way to a hospital.
Shafien said the suspects, age between 20 and 30, were detained for investigation under Section 302 of the Penal Code for murder.
(Bernama)