---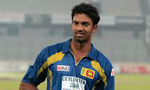 Star bowler Sachitra Senanayake has completed the remodelling process of his bowling action and is ready to bowl at international stage, Sri Lanka Cricket (SLC) Head of Coaching Jerome Jayaratne has informed the SLC authorities and was brought up for the notice of SLC Executive Committee yesterday at their emergency meeting.
The Executive Committee has decided to send Senanayake immediately for his second official test at the Sri Ramachandra University in Chennai in India which was accredited earlier this month by the International Cricket Council (ICC) as an official testing centre for suspected illegal bowling actions.
However, Senanayake will not be available for the five-match ODI Series against India which starts on November 2, as the SLC Executive Committee has to ratify the decision they took at yesterday's emergency meeting at a regular SLC Executive Committee meeting which will happen again only on November 11.
SLC Chief Executive Ashley de Silva had informed the exco members yesterday that both Jayaratne and Sri Lanka spin bowling coach Piyal Wijetunga had communicated to him that they were confident Senanayake is now bowling within the legal limits.
However the two coaches would have to submit an official report to the next SLC exco meeting to clear Senanayake for the second test at an ICC lab.
Senanayake was reported by ICC match officials for a suspect action during Sri Lanka's fourth ODI against England at Lord's on May 31, and was subsequently found to be flexing his elbow by a massive margin of 43 degrees in some of his deliveries by the ICC lab in Cardiff which tested him in June this year.
Subsequently in July, SLC sent Senanayake to the University of Western Australia where his action was analysed by human movement expert Darryl Foster who worked with Senanayake to remodel his action after their tests confirmed that Senanayake was bowling way above allowed legal limits.
Since his return Senanayake had been working hard with Wijetunga but the SLC Suspect bowling action committee that comprises of Shabir Asgerally, Graeme Labrooy and PR Paranavitana had not cleared him completely even by last week as they had felt that the bowler needed to work harder on some of his deliveries.
Last week, the committee had cleared promising young spinner Ravin Sayer of Trinity College after they were satisfied with his remodelled action.
The Trinity College captain is only the third bowler to be cleared by the committee despite the SLC match officials and umpires reporting around 100 young bowlers for suspect actions and have been banned by the SLC from bowling in schools and domestic competitions. (Channaka de Silva)