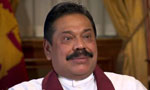 A three judge bench of the Supreme Court issued notice on Wednesday on former President Mahinda Rajapaksa and other respondents cited in a Fundamental Rights application filed with regard to the action of the then President under the Public Securities Ordinance.
The Petition filed by Duminda Nagamuwa of the Frontline Socialist Party (FSP) said that the actions of the former President were a violation of the Fundamental Rights of the citizens of the country.
It alleged that the former President had stationed officers and soldiers of the three forces in various places on January 9, the day after the Presidential Election.
The Petition said that the former President could only use powers vested in him under the ordinance only in the event there was a likelihood of violence, or endangerment of public security.
Counsel for the state, Avanthi Perera informed court that Solicitor General Suhada Gamlath would be appearing in the case and he was not present due to personal reasons.
Counsel Viran Corea did not object to the submissions and accordingly notice was issued on Mr. Rajapaksa and other respondents returnable on March 17.
(HF)