---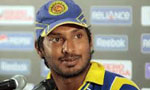 Cricket superstar Kumar Sangakkara will officially announce his retirement from all forms of international cricket today, sources told Daily Mirror.
One of Sri Lanka's most illustrious cricketers and statistically the best international batsman the country had ever produced will play no more international cricket after the ICC World Cup which would be played in Australia and New Zealand from February 14 to March 29 next year.
Sources said the former Sri Lanka captain had conveyed his decision to the national selectors when he met them at a special meeting on Wednesday. A national selector however, denied such a meeting had taken place.
Sri Lanka Cricket (SLC) sources said Sangakkara's manager had intimated the 37-year-old left hander's decision to SLC officials and a media release was expected to be issued last night.
This means that Sri Lanka's forthcoming ODI series against England which will feature seven matches from November 26 to December 16 would be the last time Sangakkara will be seen at an international match on home soil.
There has been a lot of speculation about Sangakkara's retirement, but it was not clear if the extremely popular player had also announced his retirement on yesterday's CNN's Talk Asia programme which featured him.
Earlier in March this year during the ICC World T20 in Bangladesh, Sangakkara told the media that he would retire from all forms of the international game after the 2015 World Cup.
"As far as ODI and Test cricket are concerned, it's hard to give a timeframe. I am 36 years old now and will be 37 next year during the time of the World Cup. At the next World Cup, I will be 41 and I don't hope that I will be playing then. So the 2015 World Cup will be my last. It's a kind of natural progression," Sangakkara said in Dhaka.
"For Test cricket; form, fitness and enjoyment factors must be there for you to continue. There is no denying I am in the twilight of my career," he added.
In August during the second and final Test against Pakistan at the SSC where his best friend Mahela Jayawardene retired from Test cricket, Sangakkara made an extended salute to the fans when going back to the pavilion after playing his innings, which immediately sparked speculation that it was also Sangakkara's final Test.
Sangakkara was quick to alleviate the fears after the match, but now that innings has proved to be the last Test innings he played on home soil.
"We won't be playing Test cricket in Sri Lanka for a long time from now until probably June," he said. "Waving the bat was just…. I didn't have anything in mind. There are two one-day series in Sri Lanka and the World Cup in Australia and New Zealand. After the World Cup I will take a decision about my future, after speaking to the national selectors," Sangakkara said after that match.
Sri Lanka will play two away Test matches against New Zealand in December and January prior to the World Cup.
Sources said Sangakkara however, will play in overseas domestic tournaments including at least three more seasons of county cricket in England.
Incidentally, it was the Daily Mirror, which first accurately predicted the retirement plans of Sangakkara and Jayawardene in an exclusive article published on February 26 this year titled, "Six top guns to retire within a year." (Channaka de Silva)