---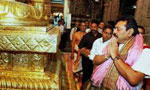 Sri Lanka President Mahinda Rajapaksa on Wednesday offered prayers at the Lord Venkateswara Temple here, where he performed Suprabhatam, the first temple service of the day.
According to reports, President Rajapaksa was in the temple for about an hour and received from the shrine's management a sacred silk cloth and holy water.
President Rajapaksa's visit comes a day after the he filed his nomination papers for the upcoming presidential elections in that nation, slated to be held next month.
According to reports, the temple town has been fortified in view of the likely protests by Tamil Nadu-based activists and political parties who are against Rajapaksa's visit. (ANI)