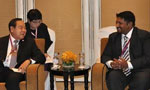 State Defence Minister Ruwan Wijewardene, who is in Singapore to participate in the 14th Asia Security Summit - the IISS Shangri-La Dialogue, held series of discussions on defence cooperation with several countries including United Kingdom and India.
The 14th Asia Security Summit - the IISS Shangri-La Dialogue is currently underway in Singapore with the participation of Defence Ministers, Defence Secretaries and other key stakeholders from across the Asia Pacific region.
The Sri Lanka delegation to the Shangri-La Dialogue was led by Minister Wijewardene. On the sidelines of the meeting, the State Minister paid courtesy calls on General Prawit Wongsuwon, Deputy Prime Minister and Minister of Defence of Thailand, Michael Fallon, Secretary of State for Defence of the UK, Lui Tuck Yew, 2nd Minister of Defence of Singapore, and also met with Rao Inderjit Singh, Minister State for Defence of India and discussed strengthening defence cooperation with the respective countries.
The State Minister also briefed those he met on the initiatives being taken by the new Government since assuming office on addressing the issue of reconciliation, the Defence ministry said.
Defence Secretary B.M.U.D Basnayake also met with his counterpart Chang Yeng Kit, the Permanent Secretary of Defence of Singapore and discussed how best to streamline Defence cooperation between the two countries through regular interactions at the policy and operational levels on the sidelines of the Dialogue.
At the Shangri-La Dialogue, the keynote address of the Summit was made by Lee Hsien Loong the Prime Minister of Singapore on Saturday night focusing on balance of power, regional cooperation and terrorism. Dr. Ashton Carter, The US Secretary Of Defence who spoke at the first plenary session said that the United States wants a shared regional architecture that ensures that the people and nations of the Asia Pacific region has the opportunity to rise and continue to rise in the future.
The delegation to the Shangri La Dialogue this year included the Gen. Jagath Jayasuriya, Chief of Defence Staff, Lt. Gen. A. W. J. C. De Silva, Commander of the Army, Rear Admiral Ravi Wijeguneratne, Chief of Staff of the Navy, Air Vice Marshal Gagan Bulathsinghala, Chief of Staff of the Air Force, Ms. Sashikala Premawardhane, Senior Asst Secretary (Foreign Affairs) of the Ministry of Defence and Wishvanatha Aponso, Acting Commissioner of Sri Lanka in Singapore.