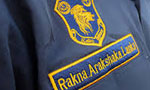 Cinnamon Gardens Police today filed a report describing and listing the weapons recovered from the Rakna Lanka Armoury located at the BMICH.
The report states that on January 20 the Police checked the armoury after having obtained a search warrant from the Colombo Chief Magistrate. It was carried out in the presence of retired Major General Wijekoon Bandara and several journalists.
The Police had recovered 151 weapons which included 44xT-56 assault rifles, 35xS-84 weapons, 32 LMG rifles, 29x12 bore repeater guns and 10 shot guns.
The report also states that according to the Rakna Armour inventory there should have been 3,473 weapons including 2300-T-56 assault rifles, 670-S 84 weapons and 385 LMG guns.
It states that there was no record of the ammunition issued for these weapons.
The retired Major General who was director of Rakna Lanka confirmed that the company was Defence Ministry approved project and affiliated to the Ministry of Defence through a cabinet paper dated December 6, 2006
He said the weapons were purchased on a hire purchase basis from the forces and issued to the STF and other security forces. According to the report the company had not paid for the weapons.
Magistrate Gihan Pilapitiya directed the Police to file a further report in Court on February 23.
(T. Farook Thajudeen)