---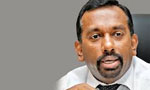 Sports Ministry issued a media release yesterday to claim that the Sports Minister Mahindananda Aluthgamage has issued instructions to Sri Lanka Cricket (SLC) Secretary Nishantha Ranatunga to appoint an independent panel headed by a retired lady judge to inquire the allegations of cricket officials soliciting sexual bribes from national women's cricketers to select them and retain them in the Sri Lanka team.
Minister had also promised to take swift action on a report submitted by such a panel as he had felt that such serious allegations could pose serious problems to the reputation of the country as well as for the future of the sport.
Ranatunga told "Daily Mirror" yesterday that he has already communicated the Minister's order to SLC Chief Executive Officer Ashley de Silva for appropriate action.
De Silva said that he would take urgent steps to implement the Minster's order.
Other SLC sources said that SLC would seek the help of the judicial services commission to secure the services of a retired lady judge and also other members to the committee.
An SLC executive committee member disclosed that a top SLC official had suggested to secure the services of retired Supreme Court Judge Shiranee Tilakawardane.
Meanwhile, Palitha Kumarasinghe PC who is the Chairman of SLC's Disciplinary Committee as well as the Chairman of SLC's Legal Advisory Committee had recommended leading lady lawyer Manoli Jinadasa to inquire the matter, on the strength of her wide experience on dealing with such matters including sexual harassment.
SLC CEO informed the SLC ex-co of Kumarasinghe's suggestion last morning and sought their approval for the move prior to the Minister's communication to the SLC.
Kumarasinghe had suggested a "Preliminary Investigation" (Fact Finding) by a competent Investigation Officer preferably a Female Lawyer.
He had added that he felt that views of the SLC President on the issue were justifiable and that they must have the services of a person who is totally independent of SLC. He had opined that a lady lawyer nominated earlier could not be termed "totally independent" as she was in a legal committee, a consultant and a former employee of SLC.
As the chairman of the SLC's Legal advisory committee, he had felt that it was pointless the case being referred to his committee as the only advice the committee could give was to hold a fact-finding preliminary inquiry, find if there is a breach of discipline and punish wrongdoers if charges are proved.
The lady lawyer Kumarasinghe had recommended is presently the "Ombudsman" of Sri Lankan Airlines under the special procedure the company had adopted to deal with sexual harassment matters as part of its HR policy.
He had said she has wide knowledge and experience in handling allegations of sexual harassment at work places and is a senior lawyer.
Kumarasinghe had stated that the complaints/allegation of Sexual Harassments, unlike other complaints, must be handled very carefully by persons with special training and experience. (Channaka de Silva)