---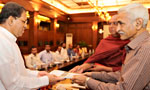 A report compiled by a number of environmental and civil society organisations on controversial resettlement near Wilpattu National Park, was handed over to President Maithripala Sirisena last night at the Presidential Secretariat.


Speaking at the event, the President said he would not allow anyone to cause damages to the environment and said a final decision on the resettlement in the area would be taken following further reports receiving from relevant authorities.

Buddhist monks including Ven. Athuraliye Rathana Thera, environmentalists including Lawyer Jagath Gunawardane and several other representatives of civil society and environmental organisations were present at the event.