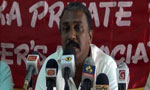 One more week would be given to bus operators residing outside the Colombo District to remove any form of stickers or banners, which could be interpreted as racist, the Lanka Private Bus Owners' Association (LPBOA) Chairman Gemunu Wijeratne said today.
"We have received many complaints regarding the pasting of stickers, on some private buses, which incite or perceived as racist from outer Colombo Districts such as Avissawella, Ratnapura, Embilipitiya and Kandy," Mr. Wijeratne said.
"Bus owners in Colombo do not paste such stickers as they are aware of the regulations," he said.
"We did not let the election candidates pasting stickers or banners during the Parliamentary elections as well as during the Presidential election.
"According to the motor Traffic Act, it is illegal to paste stickers or to hold banners on both the wind screen or rear window and on both front and back of the coach body. The Police had been given the full rights to remove such covering or any stickers on buses," he said.
"About nine million commuters travel in buses daily and as an Association, we will not encourage and not contribute to start another conflict," he said.
The LPBOA had already informed the Provincial Councils and to the relevant transport authorities to not to paste stickers on buses and to remove them all with immediate effect.
"If the stickers were not removed within the given week, we will inform relevant transport authorities and to the DIG of Motor Traffic to take legal actions against the owners," he said.
(Chaturanga Pradeep)