---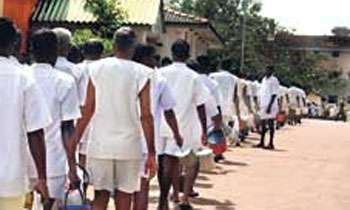 Out of the 545 inmates who were released on the Independence Day under the Presidential Pardon, 27 inmates were sent back to their prisons, Prions Department said.
Under the Presidential Pardon, 545 inmates who had been sentenced for minor offences and those who couldn't pay their fines were released yesterday. However, 27 inmates had been sent back to the prisons as they have been convicted for more than one offence.
"Though these 27 inmates were ordered to be released because they had committed minor offences, they have also been convicted for other offences and are serving for more than one sentence. Therefore, they could not be released," Prisons Department Media Spokesman Thushara Upuldeniya said.
Since the 27 inmates had been sent back to the prisons, altogether 518 inmates had been released.(Indika Sri Aravinda)
Video by RM, Indika sri Aravinda