---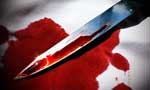 A woman was hacked to death while she was allegedly consuming alcohol with a group of friends at Walauwatta in Mount Lavinia last night, the police said.
Police suspect that she was murdered with a sharp weapon during a heated argument.
The Police said they had identified the suspect and investigations are being carried out by the Mount Lavinia Police to arrest the suspect, who had fled the scene.