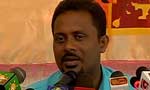 A countrywide private bus strike will be launch form December 14 midnight over several demands including that of the removal of Transport and Civil Aviation Minister Nimal Siripala de Silva, All Ceylon Private Bus Association (ACPBA) Secretary Anjana Priyanjith said today.
At a joint media conference attended by the Inter Provincial Bus Owners Association, Southern Provincial Bus Owners Association and the ACPBA, Mr. Priyanjith said the private bus operators would give a seven-day grace period for the minister to discuss this matter with the ACPBA and to provide a favorable reply.
"We expect some positive answers from the government within this period, if not we will hoist black flags on buses on the seventh day to educate the people about the minister's failure to resolve our concerns," he said. "If the Minister is unable to meet us, we will give another seven-day grace period before launching a countrywide token bus strike calling for the removal of the minister."
Mr. Priyanjith said our demands include the removal of the new vehicle emission test fee of Rs.5000; the removal of new 2 per cent tax on the buses; a reduction on the price of diesel and reduce the tax of Rs.150 to Rs.100 on a seat in a vehicle registered under the motor coach.
"If the government fails to grant our demands we will impose a bus-fare hike in the near future we will have to protect our industry by collecting money from the commuters even reluctantly," he added. "No one from the previous and the present government care about private buses, nothing had been mentioned about the industry even in the 2016 Budget," Mr. Priyanjith said.
(Chaturanga Pradeep)