---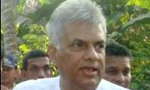 Opposition United National Party (UNP) Leader Ranil Wickremesinghe visited Meeriyabedda in Koslanda this morning and met the landslide victims. He was accompanied by a group of senior UNPers.
They distributed essential items to the displaced people being sheltered in the camps.
Mr. Wickremesinghe said a mechanism should be initiated through Parliament and the Provincial Council to set up a housing scheme for the poor estate workers instead of line-rooms.
He requested that a day of mourning be declared in memory of those who had died in one of the biggest tragedies to hit Sri Lanka after the 2004 tsunami. Mr. Wickremesinghe urged the people to hoist a white flag on the day of mourning. (Ariyaratne Ranabahu)