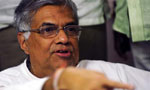 Prime Minister Ranil Wickramasinghe has reiterated Sri Lanka's right to shoot Indian fishermen who violate the maritime border and poach in Lankan waters. In an interview with the NDTV, the PM had said that even though Sri Lanka and India are working to resolve the fishermen's issue, the country's navy has the right to shoot anyone who intrudes into SL's territorial waters.
The reiteration of the controversial comment comes on the heels of Prime Minister Narendra Modi's trip to the island nation which he said was a "successful visit".
Speaking to NDTV, Mr Wickremasinghe said, "The Lankan navy has the right to shoot in any part of the country if anyone enters territorial waters, this is nothing new".
The main issue, he said, was bottom trawling by fishing boats and it has to stop. "That has been acknowledged by all sides."
Earlier this month, ahead of PM Modi's visit, Mr Wickremasinghe told a Tamil news channel, "If someone tries to break into my house, I can shoot. If he gets killed... Law allows me to do that... Why are you coming into our waters? Stay on the Indian side."
The comment had caused huge controversy and days later, on March 12, the Lankan Navy had allegedly hurled petrol bombs at Indian fishing boats. No one had been injured. In February, 86 Indian fishermen were arrested and 10 fishing boats were seized by the Lankan Navy.
Mr Wickremasinghe said the two countries were working on a solution to the issue. "The foreign minister (Sushma Swaraj) when she was here, told me that they are trying to get them (the fishermen) moved out," he said. Ms Swaraj had visited Lanka ahead of PM Modi's visit.
PM Modi, Mr Wickremasinghe said, had "reached out" to Sri Lanka and the Lankans had responded.
"It makes a case that there should be regular visits by Indian PM to Lanka, but he covered every part and showed that India stood for all Sri Lankans. While we have to settle the outstanding problems in the North, India was not thinking only of the north but all Sri Lanka," he added.