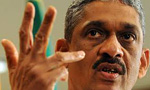 Field Marshall Sarath Fonseka said that both, President Maithripala Sirisena and Premier Ranil Wickremesinghe are facing a 'catch 22' situation, as they both have to look after the interest of corrupt politicians who are high ranking officials of their respective parties.
"I understand the fact that both the President and the Prime Minister are in a fix, because they have to protect the party on one hand and have pledged to uphold the rule of law on the other hand. This is a difficult situation but they must uphold the law. It is better to go forward with clean people than have strength with corrupt politicians" he said addressing a meeting of the party in Piliyandala.
Fonseka said that they pledged to the people a clean slate and an era devoid of corruption.
"We pledged the people that the law will rule the land. That no one will be above the law. The President has to ensure that this promise is kept. If there are corrupt people who ruled the country, they should face the consequences. No one can be above the law" he said.
Speaking further he said that over 50% of the 'current government is corrupt'.
"Over 50% of the UNP government is corrupt. They are my friends and they talk to me, but I have to say this. This is a big problem that both these parties face and if they want to get this country on the right path they have to clean both their parties of these corrupt people".
(Indika Sri Aravinda)